Domino 8.5, what's in the box?
---
A customer recently asked: "How difficult is it to migrate from Domino 8.0 to Domino 8.5". I gently had to remind him that we
upgrade
while others
migrate
. So what's the difference: A migration often involves new hardware, while a upgrade usually happens in-place (unless of course your box is rusty and you want a shiny new one). A upgrade doesn't alter data (a lot) while a migration typically requires data conversion. A upgrade can be rolled back very fast (in Domino: just start the server from the old binary directory - you might need a little help from the compact task beforehand). A upgrade also typically coexists very well with older releases. A migration comes with coexistence challenges.
Got it? Our colleagues from the Websphere brand came up with a very interesting model for new functionality. Instead of releasing a new version altogether they publish
feature packs
. Taking this train of though you could look at Domino 8.5 as a combination of a maintenance release and a feature pack. It will include more than
3000 fixes
since the release of Domino 8.0 and a set of new features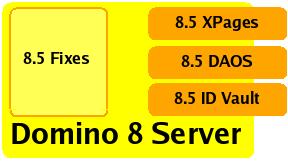 DAOS which stores attachments one time per server regardless of the number of users it got sent to
ID Vault which help you to manage that Notes.ids once and for all (I haven't come across a better PKI store yet
XPages which allow you to do web2.0 with elegance and ease. XPages is actually not new technology. It has been available for Websphere Portal as Lotus Component Designer for quite a while. New is the deep integration in the Domino stack (and Domino Desginer, but this is a server post)
Of course you want to check the
Official Pages
once 8.5 has been released.
---
Posted by Stephan H Wissel on 02 November 2008 | Comments (1) | categories: IBM Notes Lotus Notes