Nur Fliegen ist schöner (Only flying beats that)
---
I arrived in Shanghai this afternoon (see also next post). Shanghai's Pudong Airport is quite outside of the city and, depending on traffic condition can take 1-3 hours to get into the city. Unless of course you entrust yourself some
German build
technology: The Shanghai
Maglev
, the first permanent duty
Transrapid
. A Maglev is kind of a plane on rails. While running along rails it
doesn't touch them
. This allow the train to go damn fast.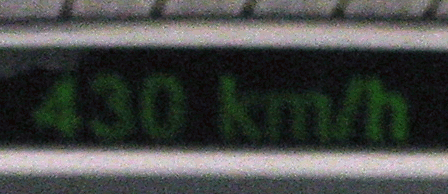 You attach wings and it takes off. The trip was even shortened by a nice chat with Dr. Whitla from the Department of Marketing & International Business of the
Lingnan University
Hong Kong, who happened to wait for the train with me.
---
Posted by Stephan H Wissel on 28 June 2008 | Comments (0) | categories: Travel